Our Customer's Story From Her Home Fire
My name is Keri Zink. I bought my first house here in Brevard, NC in 1998. I was instantly enchanted by the interesting 1940's architecture that the home had to offer. As an architect myself, I appreciated the beauty of its historic touches, such as the original maple flooring, wood paneling, and old style plaster walls. The home just had so much character to it. My husband and I ultimately decided to use it as a rental property while we pursued our careers and raised our three children together.
For several years, renting out this home gave us a lot of peace in our lives. We never had a single day without a renter, and this gave us the valuable income we needed to provide for our children and live comfortably in our own family home. Meanwhile, we were simultaneously providing a home for other families as well, in our historical rental property. This arrangement went smoothly for several years.
Then one night, out of the blue, I received a devastating phone call. My neighbor called me at about 10:00 pm and told me that our beautiful home was on fire! It was surrounded by fire trucks that were trying to put out the blaze, and we had had no idea what was going on. I was stunned. My husband was out of town at the time and completely unreachable, and I didn't know what to do. It was all so surreal, like something out of a dream or a movie.
Panicking, I immediately called 911. At first, there was a great deal of confusion. The 911 operator insisted that it wasn't my house that was on fire and being tended to; I must have given the wrong address. But, as it turns out, it was our house. I spent the rest of that night communicating with various police officers via phone, trying to figure out what had happened and what to do about it. While trying to sort it all out, I just felt so much despair and heartbreak for my poor home. The only thought that kept running through my head was, Oh my gosh, this can't be happening! But sadly, it was.
Several days passed before I was allowed to go see the destruction that had been inflicted on my beautiful historic home. It was immediately deemed a crime scene, and I had to wait for all of the evidence and witness accounts to be gathered before I could step foot on the property. And once I did, I was devastated. With all of the damage that was done, it seemed impossible for our home to ever get its charm and character back. It had been ruined- by our renter, as it turns out.
We later discovered that the couple we had been renting to at the time had been going through a rather nasty divorce. On the day of the fire, earlier in the afternoon, the husband had been discovered at the intersection two blocks away, passed out in his parked car. He was intoxicated and the police were notified, but since the car had not been running while he was in it, they could not take him down to the police station. Before they left, the police officers warned him that his soon-to-be ex-wife had filed a restraining order on him, so he was not allowed to set foot on our rental property. But, of course, he walked straight there after they drove off. When he got there, he had an altercation with his wife, and then left again. A few hours later, he returned.
At this time, our neighbors saw him fanning something in our backyard and running around the property like a madman. He threw rocks into his wife's car, and it was later noticed that one of the rocks landed right on top of their divorce papers. We're assuming that must have been his motive for setting our house on fire. We're not sure exactly how he did it because it is still being investigated. After he set the fire, the husband ran off and hid for seven days until he was finally found and arrested. He is currently going to trial for his crimes. But while justice is being served, and the insurance company so kindly helped us with our lost rental income, we were still left with one gut wrenching question: how in the world were we going to put these pieces back together and fix the home he had destroyed?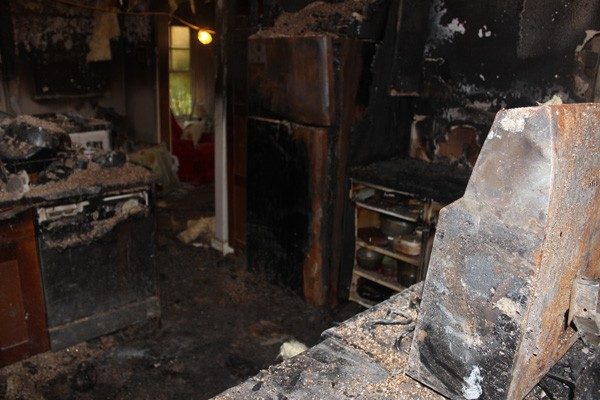 As it turned out, our police chief gave us the phone number to First Restoration Services and told me, They'll take care of you. I asked a friend of mine, who is a builder, what his opinion on the matter was, and he told me that he had used First Restoration as well and that they were dependable and could get the job done. He told me,œYou need to go with them. They know the process of dealing with insurance companies. They know how to get the fire out. If you go with somebody like me, who's a builder, it's just not going to go as smooth and you'll have a lot more work to do. So I called my insurance company, who set up the proposal for the repairs, and then First Restoration came and sat down with me and talked me through it. They were very clear and helpful, and touched on every detail I had needed. The repairs began the very next day.
At first, I was worried that I would clash with the project manager, Dawson, because of my career as an architect. Could he handle working with someone who had experience and specific demands? I wasn't sure if that was a normal occurrence. My fears were quickly calmed. Dawson was very patient with me, and never portrayed any negative attitudes or remarks. Everything I emailed, texted, or called him about was taken care of right away. He was also very good about letting me know exactly how much I was spending with each new request, so that nothing was ever a surprise. I remember thinking, Wow! That was so easy! It all just happened so quickly and efficiently, that now it seems silly that I had once thought my house was forever ruined.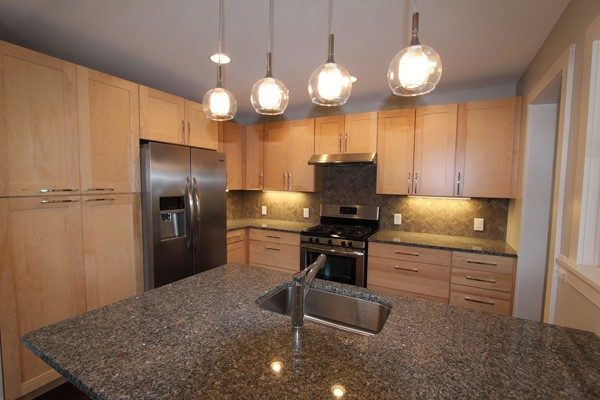 As heartbreaking as the fire itself was, First Restoration gave me the opportunity to remodel my home with all of the special touches I had always wanted, They installed for me new, darker wood floors, gorgeous light fixtures, custom cabinetry and granite countertops in the kitchen, and several other flourishes. I knew that the repairs were in good hands, and loved that I was able to take the chance to take this house that I had had for so many years and finally feel like I had made it my own. Looking back, repairing our home wasn't nearly as much of a burden as I had expected it to be. In a way, it was almost exciting and refreshing to be able to completely start over and, this time, really have the home of our dreams.
In the end, our experience with First Restoration Services was beyond spectacular. The whole team was a joy to work with, from our on-scene project manager, Dawson, to the kind and helpful secretary in the office, Kelly. It was a wonderful experience. And although I will never hope that we experience another devastating fire in our lifetime, if we ever do, we know exactly who to call to give us our lives back.