Removing Smoke & Cigarette Odor
Ever had an odor you simply could not get rid of? Maybe it was a smoke odor or damage from a fire, cigarette odor, or bad fumes. First Restoration Services was recently called out to an emergency job where the HVAC roof top unit malfunctioned and smoldered sending some smoke residue and terrible fumes throughout a 6 story and 61,000 square foot commercial law office. One of the specialty equipment we used was our gas powered thermal fogger. Thermal fogging is an effective odor removal procedure because porous material pick up the thermally activated deodorant droplets' encapsulating the odor attached to the structure and atmosphere. While this project below is a large commercial facility, this fogger, and these techniques are also used in residential homes and apartments.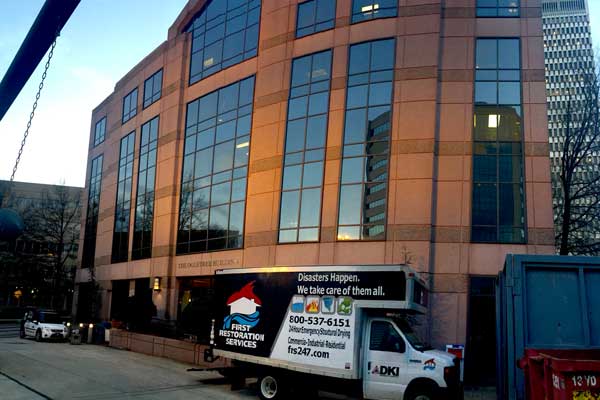 First Restoration Services responds to bad fumes from a roof top HVAC malfunction. The bad fumes were causing eye irritation, coughing and general discomfort. This 6 story building houses more than 10 local law firms and banks. Getting back to business was enormously important to the owner of the building, the law offices acting as the tenants and the property management company.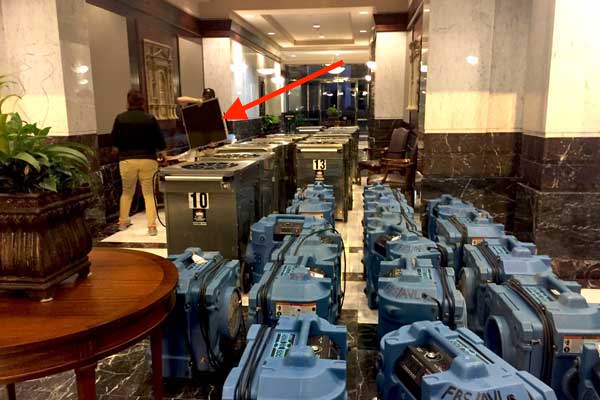 More than 30 air scrubbers were used across all 6 floors and 61,000 sq. ft. An air scrubber is a portable filtration system that removes particles, gasses, and/or chemicals from the air within a given area. These machines draw air in from the surrounding environment and pass it through a series of filters to remove contaminants. In this photo you can also see us using a charcoal filter. Carbon filtering is a method of filtering that uses a bed of activated carbon to remove contaminants and impurities, using chemical adsorption. The air scrubbers with charcoal filters are turned on after the fogging is complete.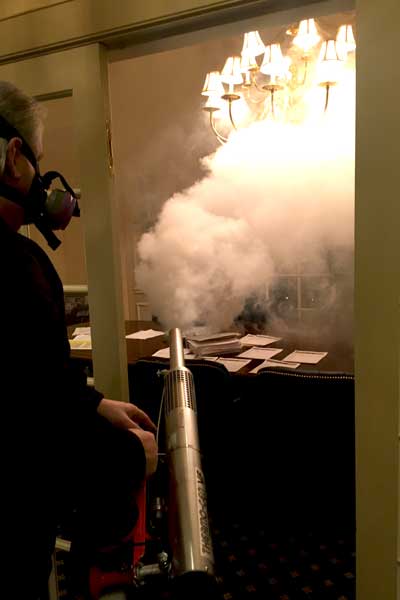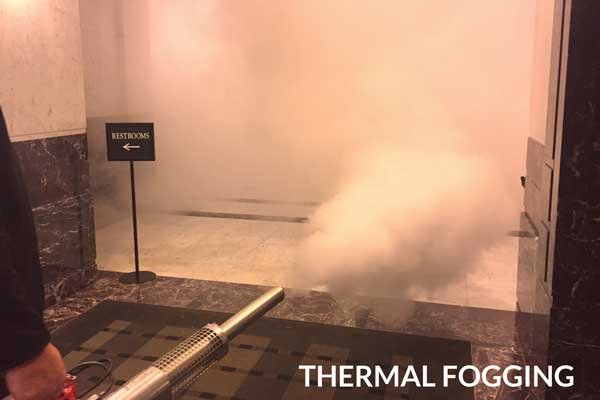 Thermal fogging is done first and we thermal fogged the entire building. You need to use a respirator while fogging, because you don't want to inhale the residue from the fogger as it can cause eye irritation. The space you are fogging also fills up very quickly and becomes difficult to see. For this reason you need to make sure you have two people operating the fogger: one using the equipment and the other as a spotter.
This project turned out great for First Restoration Services, with a late night fogging and overnight air scrubbing, all fumes from the HVAC malfunction were removed. We kept the air scrubbers in for two additional days while the HVAC got back up and running and because the HVAC potentially still had light smoke residue in the duct line.
This fogger is not only used in large commercial projects. If you have a home or apartment, First Restoration Services also uses this equipment for cigarette odors and after fires in residential homes and apartments.